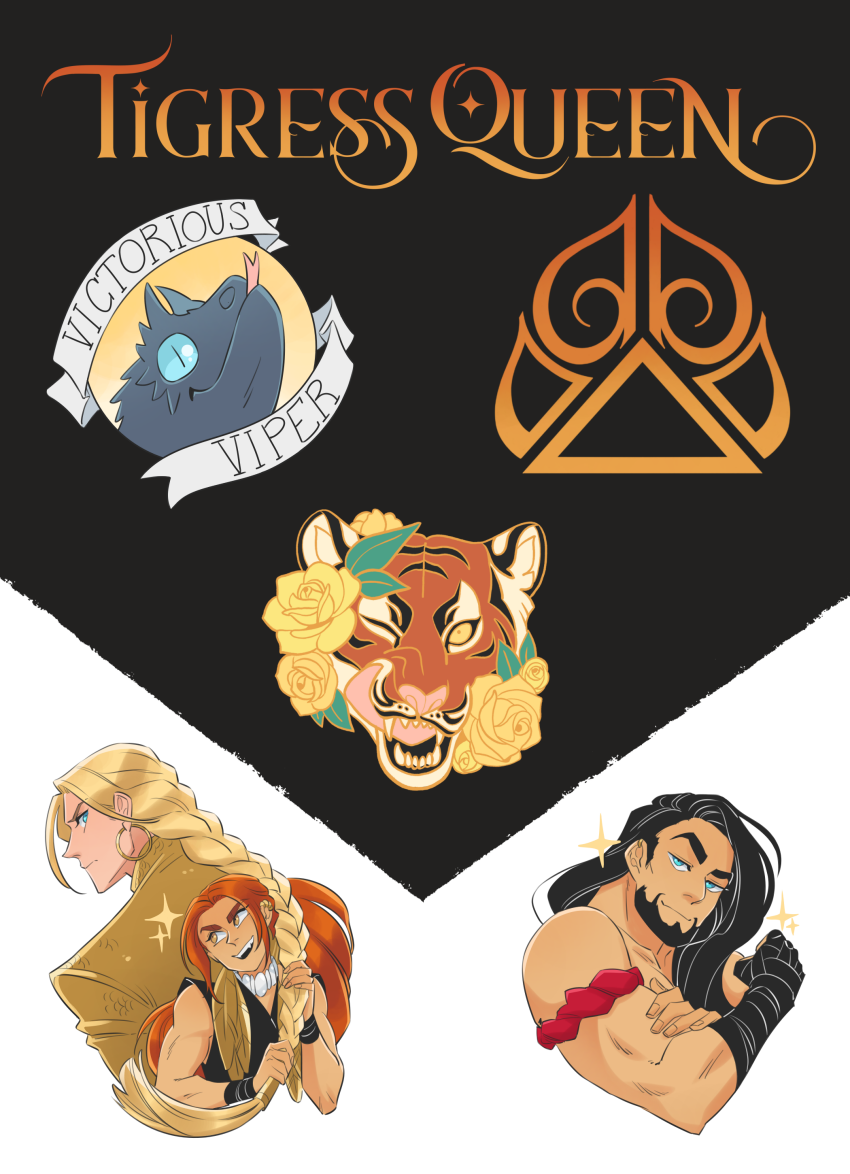 FULLY FUNDED, BABYYYY!!!!!
Posted February 10, 2023 at 12:00 am
Tigress Queen Book 1 is fully funded! The campaign will be going until March 2nd, after that anyone interested in the book will have to wait for leftover copies to become available on the Hivemill after rewards are shipped to backers in November.
>>>Order yourself a copy while you can!<<<
Here's a closer look at the sticker sheet!
Some Frequently Asked Questions:
Why can't you ship to the UK? Hiveworks needs a tax ID to ship anything to the UK. The UK did not make it easy to get one. HW folks have been trying to meet with someone who can help them with that but have been met with resistance. Hopefully it will be sorted by the time leftover books are available on the Hivemill. I apologize for the inconvenience.

Will you ship to the EU? Yes, the UK situation is specific to them. I believe the only thing HW has issues sending to the EU at this point is plushies because of additional safety testing but I think I've been hearing we found someone who can do the testing for us? Either way, there are no plushies in the campaign so this doesn't affect TQ. Someone also asked if we ship to Ireland and WE DO! They are considered separate from the UK for shipping purposes!

Will the book be available in stores? TQ Book 1 will be available on the Hivemill. I have no plans to license it with Seven Seas like I did with Persephone. They are the ones who distribute books to places like Amazon and Barnes & Noble. So no, it will not be in brick-and-mortar stores.
What's the status of Tigress Queen updates? Last month I released 5 pages of TQ to patrons. I intend to release 5 additional pages this month to patrons as well. I would like to resume regular Friday updates for TQ here on the site sometime this Spring but definitely by Summer. I currently have no specific date set.

I'm new and I don't know what's going on? I put Tigress Queen on hiatus in order to prepare the book for print (DONE!!!) and finish my Patreon comic Eros & Psyche. This month I will be finishing Chapter 8 of E&P (with a batch of 12 pages) and then I will have 2 more chapters plus an epilogue to go. I will be setting a release date for TQ when I have a better idea of when E&P will be finished, so either when I have all the thumbnails completed or just have the epilogue left, whichever comes first. Until then I will be keeping new TQ pages on Patreon while I build up a buffer.