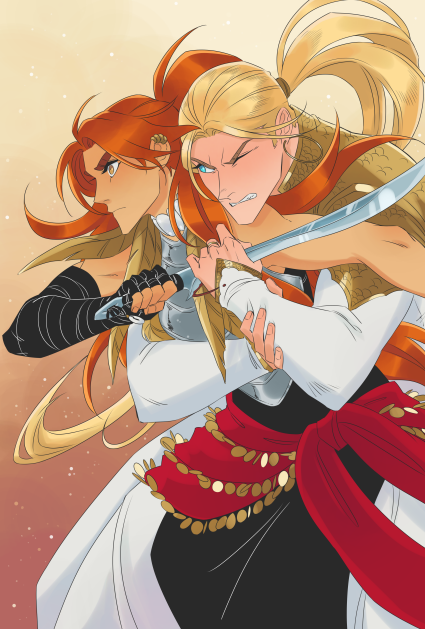 Barbarian warlord Kizarasunga and pampered Prince Jintu meet face to face for the first time at the negotiation table to end a war that has been raging for decades. Tensions are already high when the Emperor proposes a marriage alliance that he's certain could solve everything. Needless to say, it doesn't go over well.

…Or does it?

While neither is interested in a political marriage, both this graceful scholar and ferocious warrior find more common ground than they expect. Is it possible for mortal enemies to join hands before scheming opportunists take advantage of the mounting uncertainty?

Tigress Queen showcases an enemies to lovers romance packed with culture clash, reevaluation of ideals, and the occasional bath scene.

Recommended for audiences 16+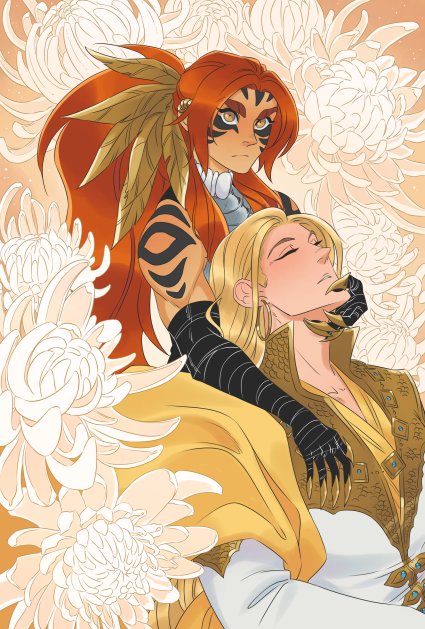 Tigress Queen began on Tapastic in January 2014 during my last semester of college. I removed it from the site due to TOS shenanigans and brought the comic to Hiveworks at their invitation. I wasn't happy with the original version so I restarted the series to be closer to how I had imagined it, and then later updated the art. You can find the original version as a PDF download on the Links page, but please be advised that it should no longer be considered canon.

I have a Patreon! Patrons can see thumbnails (sans dialogue) and finished pages before they go live here on the site!

Starting January 31, 2023 there will be a crowdfund campaign through the Hivemill (Hiveworks' storefront) to print Tigress Queen volume 1. Once books arrive in the warehouse and are sent out to backers the leftover goods will be available exclusively through the Hivemill. Please keep an eye out!
ABOUT THE AUTHOR


My name is Allison Shaw, but I prefer to go by Alli online :)

My socials are available on the sidebar if you would like to follow me for updates. I have some other comics aside from TQ! You may have come across them first, but TQ is my oldest project. You can find links for these on the home page.

Far to the North was on Hiveworks before TQ and launched in 2015, telling the story of a young lady who must join forces with the monsters who lurk about her remote mountain home when outsiders threaten her family. The story is currently on hiatus while I work on other projects but I intend to get back to it once I have more free time.

Persephone is a short one-shot I made for Patreon back in 2016 about the romance between Hades and Persephone. We held a Kickstarter campaign in 2017 to print it and then later on it was licensed by Seven Seas. They needed a longer title so it was renamed Persephone: Hades' Torment. There is a French version now as well! Recommended 18+ for mild spice.

Eros & Psyche is my current Patreon-exclusive comic. I intend to print it once it's finished but since this comic is straight up porn there are additional challenges, so I appreciate everyone's patience. 18+
You can contact me at AllisonShaw09(@)gmail.com